History, Mission, and Philosophy of the School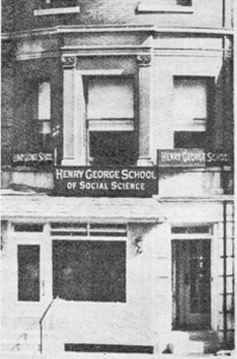 In 1932, the Henry George School of Social Science was founded in New York City by Oscar H. Geiger, a scholar who saw the need for a wider popular understanding of political economy. It was chartered by the Board of Regents of the University of the State of New York.
The first class in Chicago was held in 1934. It was taught by Henry L. T. Tideman, who also trained those who volunteered to teach. Throughout the 1930s and '40s, classes were held in libraries, park field houses, churches, private offices and homes – wherever space was available and a teacher could be supplied.
In 1970, the School was incorporated as an independent entity, The Henry George School of Social Science, Chicago, Illinois, and classes have been offered continuously since 1987. After occupying north side storefronts for a number of years, it moved to 417 S Dearborn St Ste 510 early in 1998, to 28 E Jackson Blvd Ste 1004 in December, 2005, and to 30 E Adams St Ste 1207 in July, 2012, where it remained until October, 2016. Starting in October, 2017, the School has used a location in the east Loop for classes and presentations but no longer has a physical office. Presentations are also held in libraries and coffee houses in various city neighborhoods and suburbs.
"The mission of the Henry George School is to make available to everyone an education in the fundamentals of political economy and social philosophy, as expounded in the works of Henry George. Widespread understanding of these principles is a vital first step in solving social problems. We believe that the insights gained through study of Henry George's ideas will help individuals become more effective advocates for community betterment."
– Sam Venturella (Director of the School, 1979-1998; President of the Board of Trustees, 1979-2000)